Iridized glass in reflective light.
Flameworked and Solder Sculpted Moon-lit Dark Forest
Flameworking Impressionism
This is a recent commission to represent two Irish golf courses, one in Ireland, the other in New Kent County, Virginia.
By using our flameworking techniques, we wanted to give the effect of knife painting along with the play of light as expressed in impressionist painting.
I have never seen or heard of this process being used in stained glass before. It is certainly a milestone in my career.
Tree-Top Flameworked and Solder Sculpted Stained Glass
By attaching individual flameworked fall leaves to our striation-rich, solder sculpted stained glass, we created a "whirlwind" tree-top effect for a second story window.
Wisteria Flameworked Stained Glass
White Lily Flameworked Stained Glass
This window is a combination of many of the techniques we have developed over the years. It is a reflection of the sharing of ideas and processes that are a part of our everyday life in our studio. I would like to thank artist Daniel White and craftsman Will White for their insight, contributions, and comradery. We would also like to thank the many forward-thinking clients that we are so fortunate to work with.
Sculpted Tree Stained Glass
A skylight created with beveled glass, sculpturing, and flame working. The white dot is the moon passing through the tree tops.
Winter Tree Sculpted Stained Glass
This special window was for a home that wanted something truly unique. Using our sculpted soldering technique, we build the tree up to be three dimensional, creating bark texture, weaving branches in and out, doing our best to capture a bare winter tree. The spectacular glass allowed us to capture that sparkle that a late sunset can create and helped bring this project together.
Art Nouveau Stained Glass Tree
A large window over a Jacques. With the pileated woodpecker as our focal point, we designed a tree that is overgrown and untamed, giving us a three-dimensional effect. This creates interest in the large area around the woodpecker, with the iridized glass picking up on the colors in the stone which surrounds it.
Contemporary Stained Glass Window
This window brings many of our studio's finest skills together into a single piece. Each colored bevel couples hand-blown german glass with bevels hand-ground on our antique Henry Lang machinery. The sculpted branches, brilliant red leaves, and, accent bevels give the tree an illusion of movement. The background glass is one of a kind and selected for it's wispy blue and gold veins. Sliver bevels are adhered to the glass and reflect the light playfully.
Painted Stained Glass Vine
This wonderful window was commissioned for a historic home in Crewe Virginia, to compliment the finished renovations. Coming forth from a hill, the briar vine weaves up and through the geometric window, giving this piece a light, airy feel. Painted on completely transparent German mouth-blown glass, this window allows the room to remain light while creating a jewel in this home.
Sculpted Tree Beveled Glass Window
A landing window in a contemporary home. Glass beveling, carving, and sculpturing were used to create a one of a kind piece that elegantly plays off of the world behind it.
Contemporary Beveled Glass Door – Richmond, VA
Autumn Tree Sculpted Stained Glass
A window we were commissioned to create for a home in Boston, Massachusetts.

3D Flameworked Dogwood Transom
We have reached a new plateau for our work.
How fortunate we feel to work in an environment where our ideas can flourish.
Wild Honey Album Cover – The Beach Boys
It's not often a client comes to our studio with an album cover in hand, requesting that we use the background from the Beach Boys, Wild Honey album as inspiration in creating a transom window for his listening room.
For us, it was a wonderful opportunity to be playful with color, our flameworking, and the push-pull effect of opaque and translucent glass in the same window.
Flameworked Fall Tree
We were commissioned to create a window that brought the wonderful palette of Autumn to life in a contemporary window. Using our sculpted solder and flame-worked leaves, we captured the movement of a tree losing it's fall leaves.
Dogwood Flameworked Stained Glass
This wonderful window is a lovely example of how glass is uniquely able to capture the movement and beauty of nature. The dogwood blossoms and leaves against the interweaving sculpted solder branches bring this piece to life. The flameworked blossoms and leaves free us from traditional lead lines, allowing us to explore the playfulness and spontaneity of a natural tree.
The 4 Seasons of Kew Roses – Flameworked Stained Glass
We were commissioned to express the 4 seasons of the kew rose in two different transom windows.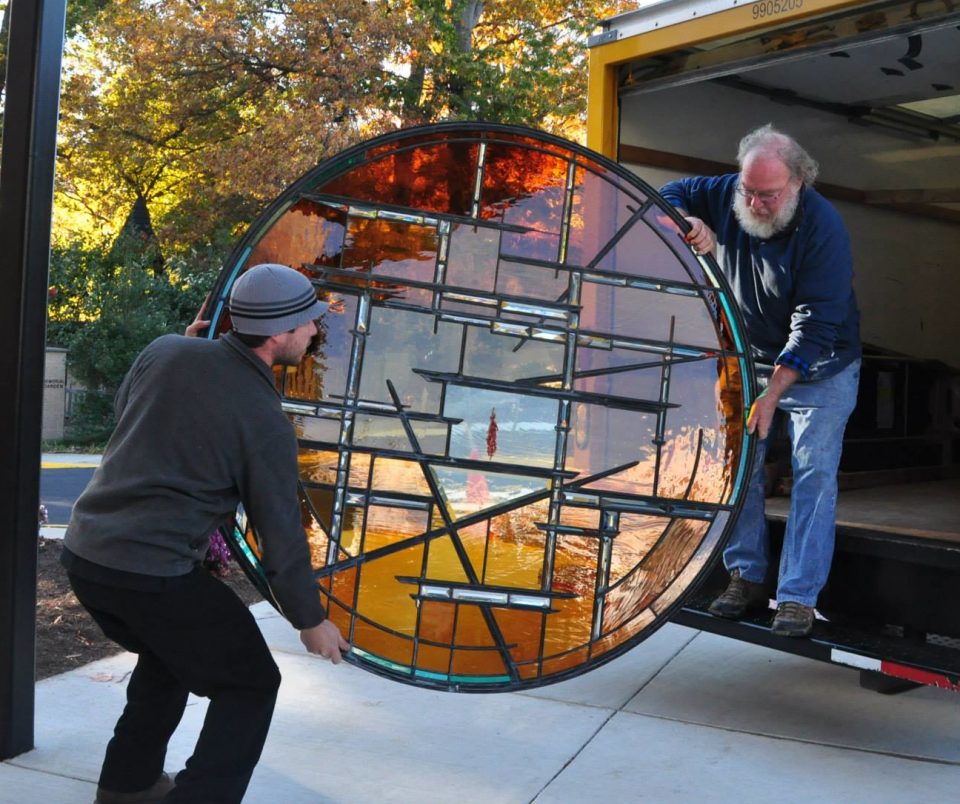 Contemporary Beveled Stained Glass Window
This window was commissioned by the Unitarian Universalist Church of Arlington Virginia to compliment the new Celebration Hall they had built. With beautiful German glass, hand-ground accent bevels, and beautiful custom metal work,  this stunning window brings the room to life with its richness.
Lunar Cycle Stained Glass
A window for over the entryway of a contemporary home. Varying lavenders picked up on the colors from the stone fireplace. The center was embellished with thin translucent glass we created by our flame working process to enhance the sun's effect. Folding the yellow border around the window gave us an interesting alternative to a simple straight border.
Flameworked Flower Transoms
This window was an exploration in our own unique style, blending beautiful German reamy glass in the background and flame-sculpted leaves and blossoms to create a floral piece full of color and transparency. Each blossom and leaf is three-dimensional, each created by hand over an open flame. The overall effect is a step closer to our goal, realizing the translucency of nature in our glass art.
Beveled Stained Glass Vines
A pair of sidelights created for a couple who owns a vineyard. Here we wanted to create the effect of ice on early morning grape vines in the "dead" of winter. Hand beveling glass on our old machinery gave us the freedom to create steep, varying bevels and sculpting the vines gave them a life-like appearance. A great deal of effort went into the design to achieve the three dimensional effect with the end of the growing season branches.
Flameworked Lamp
A panel for a pool table lamp depicting the fall leaves of a Dogwood tree.
Beveled Glue Chip Stained Glass
A beautiful example of two old glass working processes used in a contemporary way. Glue chipping and glass beveling were both developed around 1900. By beveling on our 1915 Henry Lang machinery and using animal glue we are able to carry on these traditions in our artist studio today.
Silvered Stained Glass Mirror
After hand beveling each piece of glass, we created an "antique" mirror effect by contaminating silver nitrate and silvering the backside of the glass. Then we assembled with our sculpturing technique and applied a patina for a natural look. With sconces on each side, the light reflects on the bevels as one moves down the hallway.