Over the years we have restored quite a few leaded glass entryways. Many of them had little rosettes used to embellish the joints between simple lead lines.
Whenever we found a rosette, we would always make a mold so the design could be reproduced.
One of our current projects is recreating the design for The Beach Boys album, "Wild Honey" cover with stained glass.
Our first goal was to create a jewel-like effect for the centers of the flowers. By experimenting with many different colors of glass and how they reacted to flameworking, we were able to find ones that would reconfigure themselves into the jewel-like quality we were seeking.
Now that we have our focal points, we will begin creating the rest of the window around them.
The smoothing stone on our 1915 Henry Lang beveling machine was mined by the Newcastle Stone Company in England. This was the only mine known that had the consistency of sandstone, free of any imperfection that would scratch the glass being smoothed.
The company is no longer producing these stones, they are being replaced by modern, man-made stones. So far, I have worn one out, but have 3 in reserve that I found over the years.
A finely adjusted stream of water "lubricates" the surface, from there, the quality of the bevel is up to the skills of the craftsman.
Starting with firm pressure and finishing with a light touch gives the finished piece a smooth surface but leaves the slight facets of a hand-made bevel. This is what gives the finished window the desired prismatic effect.
What I have found most interesting is how the process requires constant focus and attention, leaving little room for the mind to wander.
We installed a window we've been working on for the last 6 months, a restoration project of a 100-year-old window.
The challenge in these projects is finding matching glass. We visited The Paul Wissmach Glass Company (1904) in West Virginia and found some of the border colors. For the background, we worked with Kokomo Opalescent Glass Co. (1888) in Kokomo, Indiana, who found matching glass in their storage.
I created this window for an elevator door in a home around 30 years ago. I believe it is the first time I started using extended lines in my work.
Traditionally, the lines in art glass stop when they connect to another line. I believe the extensions developed in my design process of drawing lines on paper, erasing, redrawing and finally realizing in seeing the new lines overlaying the shadows of erased lines, the possibility of a new design element.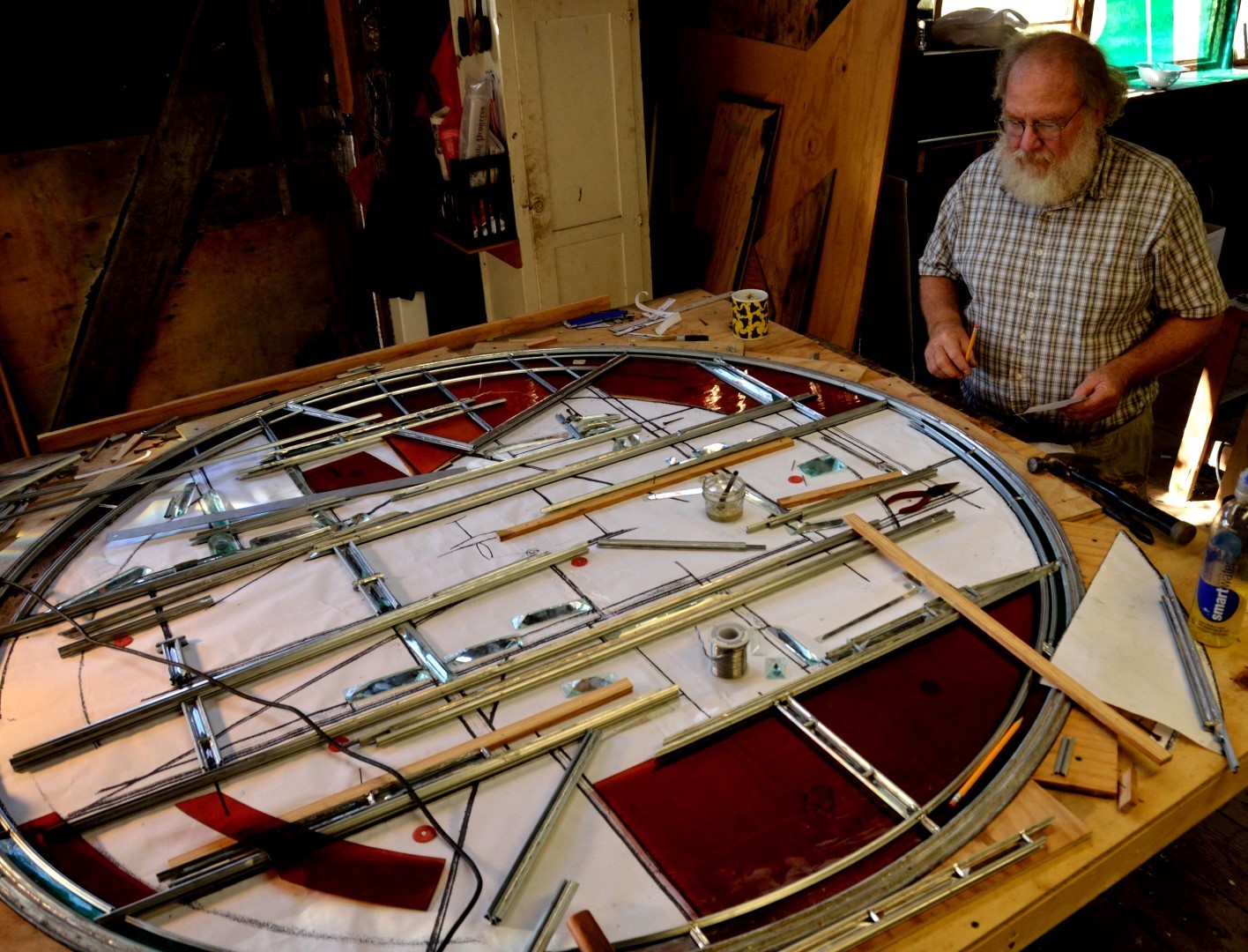 One of the reasons I was so drawn to becoming an artist/craftsman was that I saw the value in being able to develop a piece of art from start to finish.
Starting with a piece of paper, a pencil, one's imagination, an idea, and then seeing how the materials interact completes the design process.
Being able to make a living through creativity has given me enormous satisfaction throughout my life.
Introducing sculpture into our work around 25 years ago opened up so many new design possibilities.
Traditionally, we were limited to designing with lead cames of consistent widths.
I have no idea how long I spent sketching this idea, trying to build character. Nor, how long it took Daniel to bring it to life.
In February 2013, we completed 2 rose windows for the Priory at St. Thomas Aquinas Church in Charlottesville.
This is one of the sections that shows the highly developed painting skills of artist, Daniel White.
The surrounding glass framing the painted piece was carefully chosen to compliment the painting, while at the same time not distracting from it.
Next month, I will celebrate the beginning of my 48th year of working in art glass.
Fresh out of college with a degree in sociology, I knew that I wanted to be self-employed, have my own product, and be compensated in relation to the effort I put into my career. My philosophy was that one should work and make the money needed to live the life one desires, balanced with the freedom to enjoy life's other pleasures. I also knew I would never be happy in a structured work environment, following someone else's direction.
In June of 1972, I drove my 1962 VW bus to Whittemore-Durgin Stained Glass Supplies, in Rockland, Massachusetts to purchase some sheets of stained glass, foil, lead came and solder to begin my journey. I remember sleeping in my bus to save every penny I could to buy my first supplies. Those of you who know me, know I'm a rather "thrifty" fellow.
Literally starting on the kitchen table, I made hanging apples, pears, cherries and chickens that stood on one leg, selling them at craft fairs and gift shops by the dozens. I was one happy fellow, finally free of what everyone else wanted me to do and heading down my own self-directed path.
This is Sue, my first wife, showing off my creations. The most tolerant and supportive woman a fellow could ever hope for.
Some of the magic we've discovered over the years, working glass over our 1915 beveling machinery.
Cutting 3/8″ and 1/2″ glass to a pattern, and free-handing them over large steel, stone, cork, and felt wheels that are rotating around 200 RPM, one is able to create various angles that bring character to the overall project.
We achieve the gold by using an old mirror we found that still had some of the tarnished silver. By carefully cutting and going through the beveling processes, we were able to preserve enough to give the pieces a special antique sparkle. Under the round bevel, we placed a piece of iridized glass to reflect light.
Over the years, we have discovered many little techniques such as this through our constant "thinking and doing, doing and thinking." Thank you, Goethe.
A lot of thought goes into the preparation of our art.
Communication with our client, often visiting the site, designing and design approval, creating patterns, color selection, and pulling together the materials are all necessary for a successful project.
We estimate that we are halfway through a project before we even cut the first piece of glass.
These two drawings show the evolution of my traditional beveling designs to my contemporary style over the last 40 years.
When one views symmetrical windows, the mind remembers the design quickly and it soon becomes another object in the room. By beveling various angles and thicknesses of glass, blown glass from Germany in the background, in an asymmetrical arrangement, I was able to create windows that would challenge one's mind by breaking the spell of consistency.
A couple of sidelights we beveled on our 1915 machinery. By holding the glass over rotating iron, stone, cork, and felt, one achieves many small facets that give our bevel glass windows their sparkle.
Close-up photographs of our recently completed The Four Seasons of The Kew Rose
We were commissioned to express the 4 different seasons of the kew rose in two different transom windows.
I created this lamp in 1982 for a couple in Richmond, Virginia. We picked up the carving design from an oriental rug that was below it, beveled the glass on our 1915 machinery, and assembled with zinc came.
This is a drawing I did around 30 years ago. I was getting bored with doing traditional bevel glass designs and wanted to expand my ideas into a more creative and contemporary style.
One of the reasons I enjoy my work so much is that I like the people I work with. It gives me great pleasure to see their signatures alongside mine.
Here we overlaid the branch of a kew rose onto our glass interpretation for one of our current stained glass window projects.
Please visit our Instagram and website to see the many projects we've created over the past 46 years.
www.waynecain.com
In our studio, we strive to maintain a very upbeat attitude towards our work. It is important that we share ideas in a positive way. Negativity dulls our senses and stifles our creativity.
The beginning of our current project, the 4 seasons of the kew rose.
Around 1990, I started experimenting with beveling 1/4″ colored glass on our 1915 machinery. In some openings, it created a very subtle jewel-like quality for the architecture.
During the summer of 2003, our 5 children and I created this window for their school, Tandem Friends School, Charlottesville, VA.
We wanted to express the energy and excitement this wonderful environment provided for it's students.
Over the years they have often commented on the value and influence they received while there.
Me, showing off at Career Day.
April 2013.
A couple of sidelights I created, around 20 years ago, for a couple who owns a vineyard in Whitehall, VA.
I wanted to create the illusion of ice on the early morning vine. To achieve this, I beveled short, steep bevels around some of the design.
By sculpturing the vine with solder, I was able to compete a realistic winter scene.
When I moved from Richmond to Bremo Bluff, 36 years ago, my first helper was John Williams, who was 17 at the time.
I suppose by the duct tape on our aprons and the smiles on our faces, you can tell we were two happy fellows.
John had many other occupations over the years, as well as serving in the navy. He is now back working with us with a new apron and a bigger smile.
I created this window for a couple in Richmond, VA around 30 years ago.
They contacted me about a week later saying they ordered a pizza last night and when they opened the door, the pizza delivery fellow said, "Oh, you have a Wayne Cain window!" I consider this one of my greatest compliments.
Our recently completed Wisteria window, for a home in Chicago. Each petal and leaf was created individually to create an original window, never to be reproduced.
Working a strip of stained glass over a flame has advanced our goal of emulating the translucency of nature into our work.
I created this drawing 30 years ago when I was going through my rebellious period concerning symmetry. Of course, it went over like a lead balloon, so I thought I would revive it in my "mature years" to see how it's received.
I'm always amazed by the effort that goes into our symbols. The contour of the pages, the positioning of the text, and the look of age takes considerable study. By waxing the glass to a clear background glass, we are able to study the effects of natural light before assembly. Painting by Daniel White.
For the past 15 years or so, we have been honored to make the annual stained glass award for the T. Brady Saunders branch of the Boy Scouts of America.
This photo requires close inspection. Here we are sculpturing tree branches on copper wire so they intertwine with the zinc structure of the window, and then applying patina for a lifelike effect.
We always enjoy living with our work before installation.
We are so pleased with how our flameworking continues to improve.
Sometimes the background and symbols just seem to work together so beautifully. Painting by Daniel White.
Look closely for the clear glass sculpture that we incorporated into this stained glass window. A nice balance of subtlety and drama with the background blown glass from Germany.
We learn so much from the restoration of historic windows. This is one of our favorites.
This is one of our favorite selections from our flameworking, highlighting the translucency of nature.
This is a design that evolved while I was playing around on the drawing table one day. My hunch is, I was influenced by the vines that grow up the VDOT signs this time of year.
By moving around the sanctuary, the lights reflecting off of the colored mirror created an interesting focal point in the sanctuary.
We worked in collaboration with the wonderful people at St. John's Lutheran Church in Emporia, VA to create this beautiful visual addition to their church.
This was one of the most pleasant surprises we've had in a while. Our newly installed window capturing the final light of the day.
Went to Richmond yesterday and had our studio portrait made by @tintype_rva. If you ever want to be in the presence of a true artist and walk away with a piece of art, you may want to visit Emily.
No excuses, it's up to the artist now!
This is a design that kinda got away from me on the drawing table. It reminds me of a window from a deserted building.
Wayne checks and re-checks details all along the way.
By using silver stain, we transformed the background glass from simple clear glass to gold. This transformed this private chapel into a warm glow. Painting by Daniel White.
My stepson, Daniel White, is the painter on all of our projects.
A painted section from our Bily Ireland Museum project. Painting by Daniel White.
A restoration we completed several years ago at the historic Hotel Richmond. The skylights spanned over 12 feet wide and were hidden under over a hundred years of filth.
One of the best parts of our job is living with beautiful colors.
This is not Norman Rockwell.
Starting a new series of projects so someone did a clean sweep of the shop and put all the tools back. When I walked by, seeing this, it startled me to the point I had to take a picture.
A window we created for St. Thomas Aquinas Chapel in Charlottesville, VA. Painting by Sean Flaherty.
We take color selection very seriously for each project that we undertake.
A window from one of our restoration projects. This required touch up painting that was performed by Daniel White.
The altar window at Grace and Glory Lutheran Church in Palmyra, VA.
A detail from one of our windows at Grace and Glory Lutheran in Palmyra, VA. Painting by Daniel White.
Working by the wood stove on a cold rainy morning.
One of our restoration projects completed several years ago.
A window we created to go over a jacuzzi.
A window we created for the foyer of a new home.
A section from one of our painted windows.
Concentration and focusing play a large role in our work.
Our north-facing window that we use to study the glass for one of our current projects.
Embellishing one of our windows with chickadees.
Painting by Daniel White.
This window was made using Uroboros 65-95. By pulling from different areas of several sheets, we were able to get the variation we wanted to create this window.
A section from one of our flameworking projects.
One of our current restoration projects.
A medallion for some windows we created for a carriage museum, painted by Daniel White.
A beveled glass window I made over 25 years ago, using our 1915 Henry Lang machinery.
A flameworking study that I gifted to my wife.
An example of our flameworking.
Delivering our window to the Unitarian Universalist Church of Arlington in Arlington, Virginia.
This window is a combination of many of the techniques we have developed over the years. It is a reflection of the sharing of ideas and processes that are a part of our everyday life in our studio.
One corner of our shop. (If you can't find it, you can't use it)
The finished window.
Beginning to assemble one of our contemporary windows.
We've been finalizing designs for a few different projects currently in the shop, and are excited to have the chance to explore and express our art.
The other day I did some minor repairs to a door Geraldine Powers and I created 35 years ago. We were partners back then. Jerry did the designing and I was the craftsman.
A recent piece we crafted for a private residence.
This photograph shows a third of the windows in this sanctuary. By using a hand blown translucent glass from West Germany, we were able to blend the trees and bushes on the exterior into our concept. The striations in the glass give movement to the windows as one walks through the sanctuary. This was my first complete church project, over 30 years ago.
This wonderful window was commissioned for a historic home in Crewe Virginia, to complement the finished renovations. Coming forth from a hill, the briar vine weaves up and through the geometric window, giving this piece a light, airy feel. Painted on completely transparent German mouth-blown glass, this window allows the room to remain light while creating a jewel in this home.
A solder sculpted and flameworked Autumn tree stained glass window we created for a home in Boston, MA.
This wonderful window is a lovely example of how glass is uniquely able to capture the movement and beauty of nature. The dogwood blossoms and leaves against the interweaving sculpted solder branches bring this piece to life. The flameworked blossoms and leaves free us from traditional lead lines, allowing us to explore the playfulness and spontaneity of a natural tree.